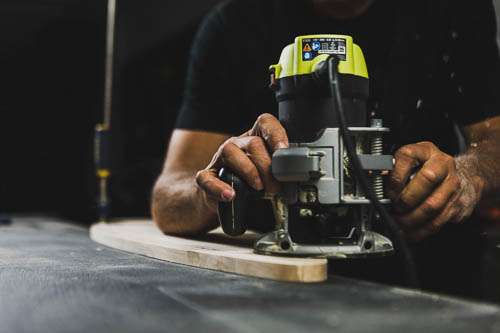 Design and build your very own old-school Pintail Longboard Skateboard
What You'll Be Making : A classic pintail longboard/skateboard
What's You'll Be Doing: Planing, cutting, shaping, and smoothing hardwood lumber and installing the rolling stock
Skill Level : Beginner — no previous experience is required.
Length: 4 hours
Class size: ~8 people.
Prices
$275 per person: You will design and make one longboard.
Buddy Up! – $315: You and a guest will design and make one longboard together.
Date Night couple – $365: You and your guest will design and make one longboard together and get a pizza and a bottle of wine to share during the workshop.
Book Now
This workshop will help you build your own self-powered ride – an old school, hardwood pintail longboard skateboard. A longboard is perfect for cruising around and honing your carving skills. And you'll get bragging rights when someone asks you where you bought your sweet board.
This workshop is an excellent exercise in the core woodworking skills – planing, cutting, and smoothing a rough piece of hardwood. After honing your deck, you'll attached the rolling stock so you can ride off in style.
You'll provide a few choices of wood for your deck, including both solid and plywood, as well as your choice of wheel color.